Articles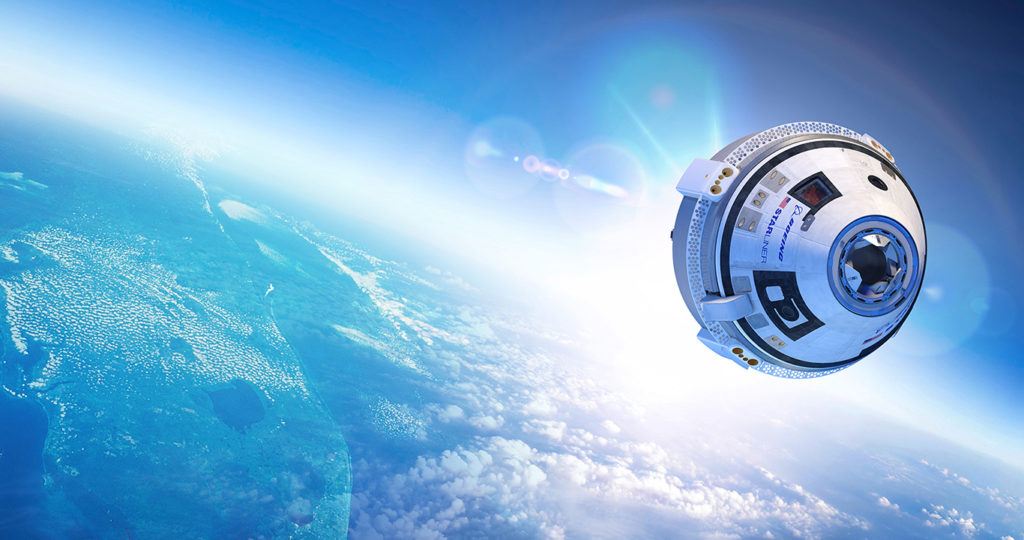 Boeing: The Leader Of The Commercial Space Race
Sep. 25, 2018
Boeing and SpaceX are the two trailblazing companies that are paving the way towards making space flight a normality. Currently, the two companies are involved in a new space race, a race to be the first commercial company to put people in space.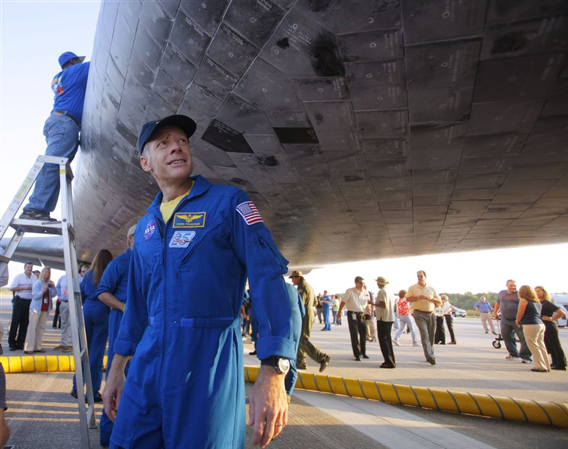 Astronaut Inspired by 'The Right Stuff' gets set for second act he never expected
Sep. 9, 2018
"I was positive I was not going to fly again. I didn't foresee this coming about at all. I started talking to some of the senior leaders from Boeing — we started talking about maybe needing an astronaut's touch on the new vehicle that they were building back in 2011. Not many people knew about it, myself included. When they started talking about having me join the team, I thought, "Wow, I actually get to leverage some of my experience." To be able to put all of your experience to use and help put together the next generation of spacecraft, who would not jump at that opportunity?"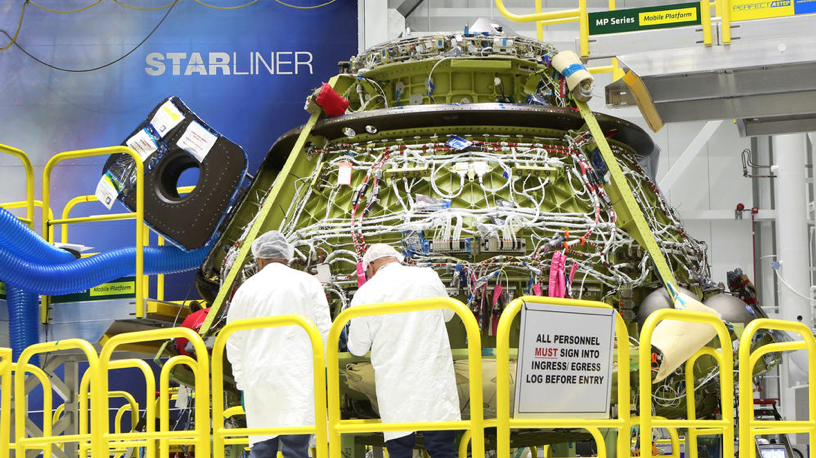 Boeing crew sees Starliner on Space Coast as company prepares for 2019 launch from U.S.
Aug. 9, 2018
"KENNEDY SPACE CENTER — Nicole Mann does not think her young son quite yet understands that his mother will head into space soon. But at the very least he got to see his mother stand alongside Vice President Mike Pence when he announced assignments for astronauts in Houston last week. That moment will stand out to the 41-year-old NASA astronaut as she prepares to help the United States return to launching humans into space soon. On Thursday, Mann got one of her first up-close looks at the Boeing Starliner, the capsule she will fly into space in alongside veteran astronauts Eric Boe and Chris Ferguson."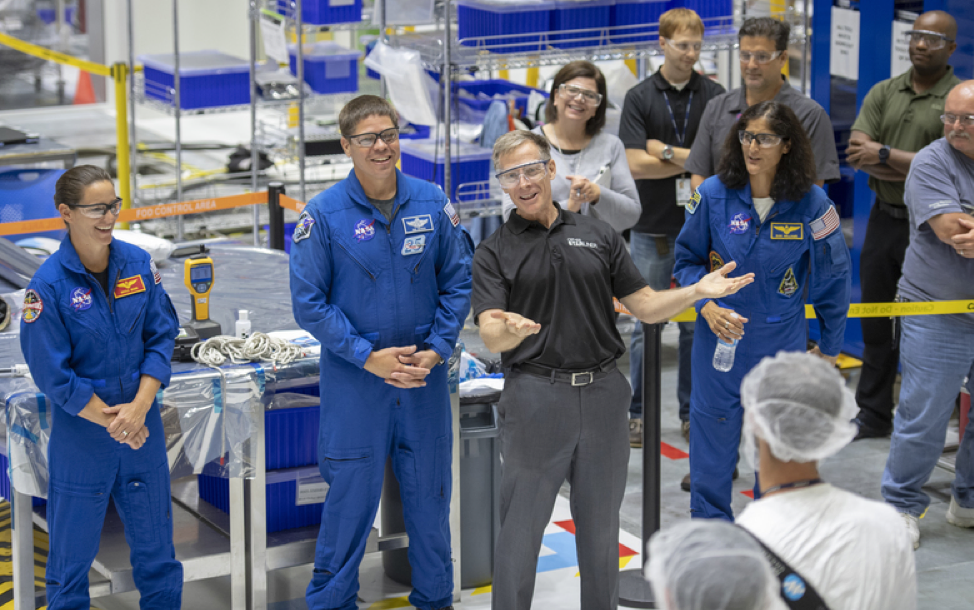 NASA trained and Boeing employed: Chris Ferguson hopes to make history as a company astronaut
Aug. 9, 2018
In its corner, Boeing has Ferguson, a secret weapon of sorts, a polite and polished pilot with an unblemished résumé. On the final shuttle mission, he left an American flag on board the International Space Station, with "the goal that the next crew that launches from American soil gets to bring it home." The race is like a "sort of grown-up capture the flag," Ferguson said. "It probably has a lot more significance to me than it does to, say, somebody from our competition." Being among the last to launch from U.S. soil "doesn't entitle me to get it," he said. "But we're in a pretty good position."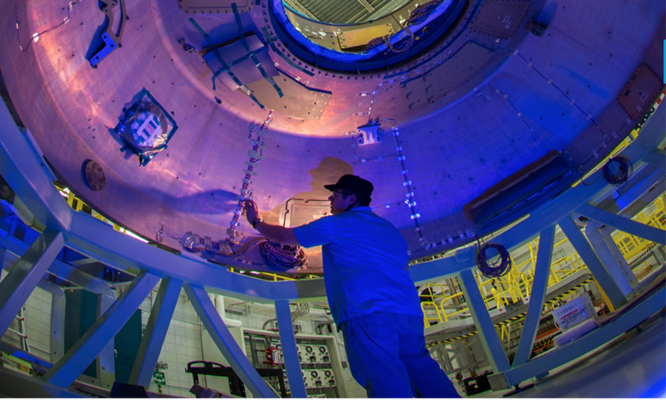 Humans are Going to Infinity and Beyond [or at least the moon] with Boeing's Starliner
Apr. 10, 2018
"This wonder capsule will soon be sending the ISS experiments meant to improve long-term stays beyond Earth's atmosphere, including 3D-printing tests for tools and equipment parts and methods of growing vegetables from our planet on another planet. After it's successfully proven it can shuttle payloads back and forth to the ISS, Starliner's next destination will be the moon—once the proposedLunar Orbital Platform Gateway (LOPG)actually becomes a reality—before launching research missions and (eventually) nascent colonies to Mars."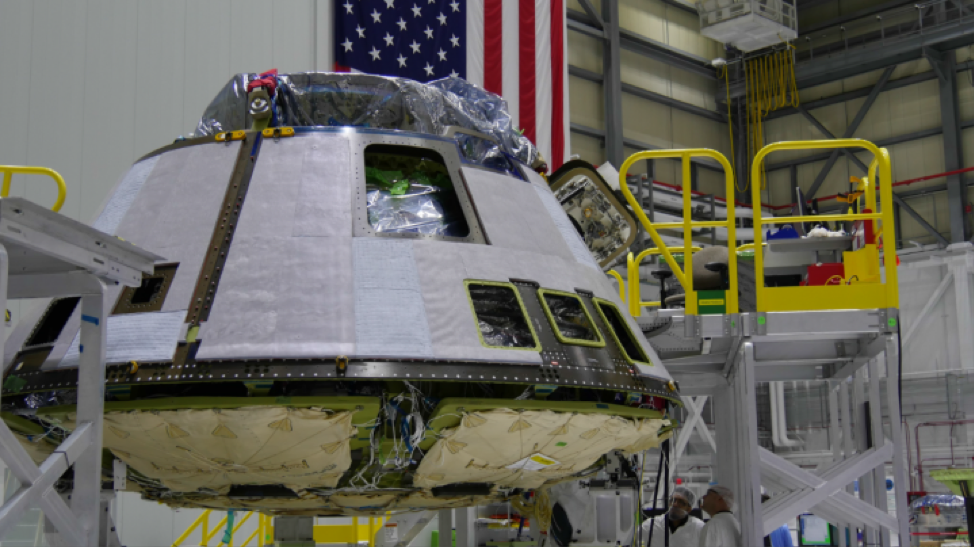 Look Inside Boeing's Race to Launch the Next Generation of Human Spaceflight
Mar. 15, 2018
"As a company with three multibillion-dollar divisions, Boeing is known for its work as an airplane manufacturer and a defense contractor before its space businesses. But the company says Boeing CEO Dennis Muilenburg is trying to change that with his "One Boeing" initiative, so the company shares resources and talent from within. One example of Boeing applying Muilenberg's principle is when the company brought in engineers from the commercial airplanes division to teach those in the Starliner program how to use a "shimming tool." In essence, the specialized tool was capable of drilling and installing the black seams (seen below) in a few hours. When done by hand, each seam would have taken about a month to install."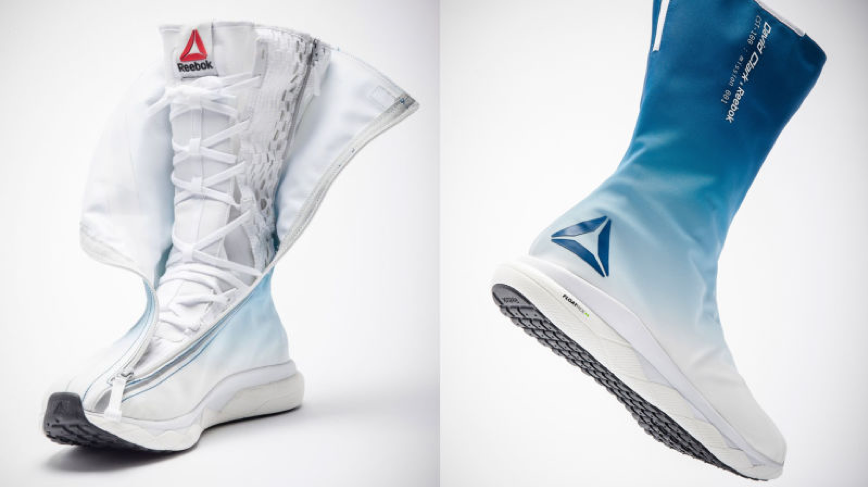 Boeing Starliner Astronauts Are Going to Have the Most Space Punk Boots
Jul. 24, 2017
"Astronauts are golden retrievers of human beings. The rest of us have to live vicariously through their resplendent existences while we sit back and watch hours of cats reacting to fidget spinners. Now, Reebok has decided to make our astronaut envy even worse—it's finally revealed the space boots for Boeing Starliner astronauts and goddamn are they fly."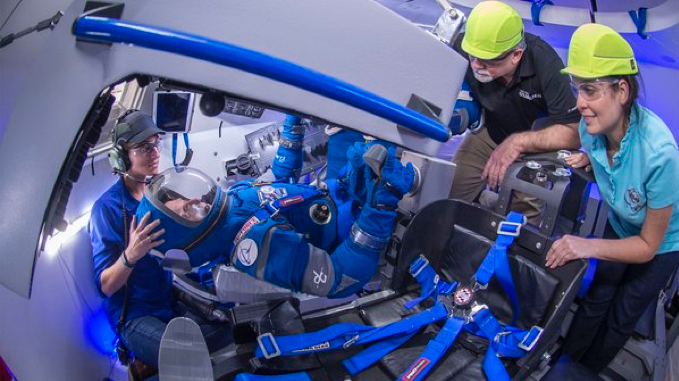 Examining Boeing's New Starliner Spacesuit
Mar. 9, 2017
Boeing recently unveiled the suit that astronauts will be wearing when they ride their upcoming Starliner capsule to the International Space Station (ISS). Officially called the Starliner Ascent and Entry Suit, it also answers to "Starliner spacesuit". Aside from its bold "Boeing blue" color, the Starliner spacesuit has numerous features worth noting. It is quite different in several ways from any suit that astronauts have ever worn before. These differences reflect an emphasis on mobility and comfort, efforts to blend the suit with its host spacecraft, and the specific emergency scenarios that the suit is designed for.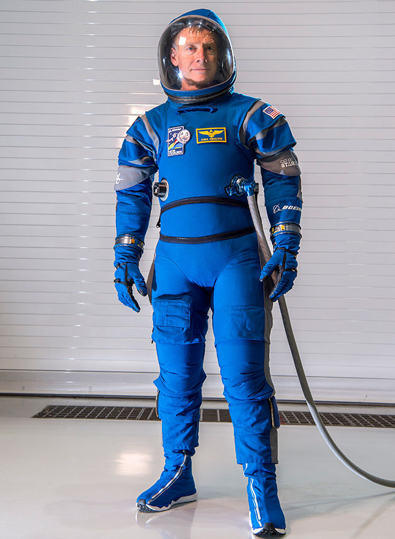 Touchscreen gloves? Zippered helmets? Boeing reboots the spacesuit for Starliner
Jan. 25, 2017
The spacesuit designed for astronauts riding Boeing's Starliner space taxi makes a fashion statement for the 21st century, from its touchscreen-sensitive gloves to its color-coordinated shoes. And all of it in Boeing blue. The spacesuit made its public debut today during a media extravaganza at NASA's Kennedy Space Center in Florida, with former NASA astronaut Chris Ferguson as one of the emcees. "I was essentially the model for this as they built the suit around me," said Ferguson, who commanded the final space shuttle mission in 2011 and now serves as Boeing's director of crew and mission systems.
Additional Reading
Boeing's CST-100 Starliner: A 21st Century Space Capsule in Photos
August 3, 2018
How Boeing's Commercial CST-100 Starliner Spacecraft Works
August 3, 2018
Boeing CST-100 Starliner: Next-Generation Spaceship
August 2, 2018
Social Media