As a result of U.S. tax reform, Boeing is investing $100 million to ensure American workers keep their competitive edge in aerospace engineering and manufacturing.
Boeing announced two new initiatives focused on this objective.
The first is a $6 million investment into the Thurgood Marshall College Fund to help develop the future technical workforce. Boeing's investment will support and fund scholarships, internships, on-campus engagements, and immersive opportunities at Boeing with eight Historically Black Colleges and Universities (HBCUs) partners. Students from other HBCUs can also take advantage of the investment through TMCF's award-winning Leadership Institute. Investments like these help create a diverse talent pipeline, provide more direct job pipelines for students' post-graduation and fundamentally improve overall career opportunities.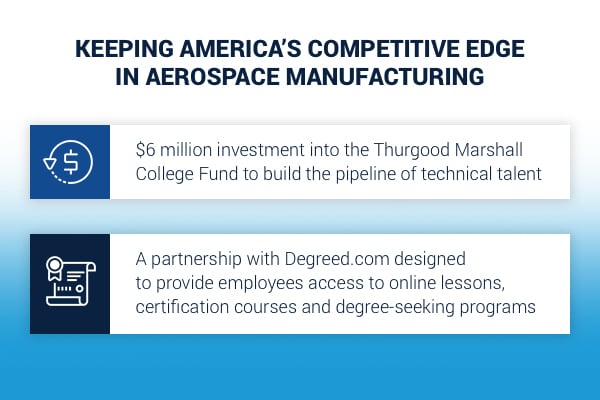 The second announcement focuses on a new partnership with Degreed.com that provides access to online lessons, certification courses and degree programs for Boeing employees.
The investment will also fund several programs to help employees enhance technical skills and understand industry trends, tools and technologies. The first program will focus on digital literacy, a key enabler of Boeing's growth strategies.
Boeing's commitment to American workers serves as an example of how tax reform is pushing companies across the country to re-invest in their people. In an increasingly complicated and modern world, manufacturers need to give their workers the skills to compete.
Find out how tax reform is helping Boeing invest in the American worker and maintain America's edge in aerospace manufacturing and engineering.