Boeing just committed $54 million in charitable gifts to veterans, students and local communities.
These investments are a part of Boeing's previously announced $300 million pledge to support communities all around the United States.
The $54 million package will go toward supporting STEM education, health and transition services for American veterans, and investing in local communities.
Yesterday, Boeing Chairman, President and CEO Dennis Muilenburg stressed the importance of Boeing's commitment to giving back.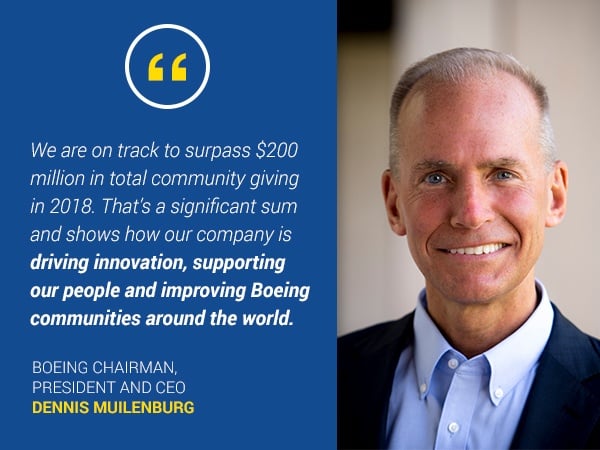 America needs a talented workforce with advanced manufacturing skills in order to keep making the best aircraft and spacecraft in the world. That's why Boeing supports STEM education, which will ensure the next generation of dreamers and doers have the skills to compete in the 21st century.
In 2017, more than 400 Boeing employees and retirees mentored 10,000-plus students, highlighting the important role STEM education has in today's schools.
The recent tax reform legislation has enabled companies to invest in their employees and local communities. Muilenburg added, "this investment is yet another example of how Boeing is putting tax reform to work."
Learn more about Boeing's commitment to investing in communities around America.