Assembling the world's biggest rocket for the first time requires innovative ideas and urgency to meet NASA's goal of landing the first woman and next man on the Moon by 2024.
NASA's Space Launch System (SLS) will be the biggest and most powerful rocket ever built when it launches, with 15 percent more thrust than the Saturn V. The gargantuan rocket represents the future of American spaceflight and is poised to take American astronauts far beyond where humans have ever gone before.
Building a spacecraft of this size takes unprecedented logistical skills and engineering ability. Boeing and NASA's newest plan aims to deliver the first SLS Core Stage before the end of the year to support final testing and launch of the Artemis-1 mission to the Moon.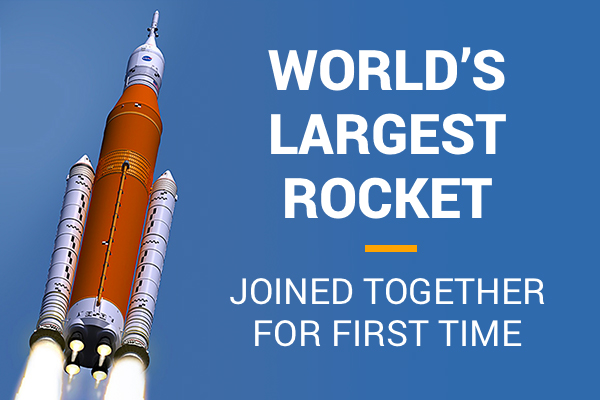 Boeing and NASA recently implemented a new approach to sequencing of the final integration and assembly of this massive rocket — allowing work to be conducted on multiple sections of the rocket at once. This is saving months of time by allowing processing and assembly to happen faster than originally planned.
All of the lessons from the build of the first Core Stage are being incorporated into the second rocket, which is accelerating the production schedules for the rockets that will launch astronauts back to the orbit of the Moon in 2024 and to the surface in 2024.